INOCEL pursues its development and reaches its first strategic milestones
The company structures its governance with the appointment of an Advisory Board and a General Direction.
INOCEL successfully completes its first capital increase of 10 million euros.
The company validates its first recruitment and structuring objectives in line with its ambitious development plan.
Grenoble, September 27th, 2022 – INOCEL, a new player in the field of hydrogen technology co-founded by Mike HORN and Mauro RICCI, is accelerating the energy transition by democratizing high-power hydrogen fuel cells. Four months after its official launch, the company is structuring its governance and its funding to complete the first stage of its development. The company appointed an experienced Advisory Board, a dynamic and competent General Direction, and carried out a first capital increase of 10 million euros. INOCEL's growth is in line with its strategic development plan and ambitious objectives. The team now counts 20 employees and will reach 35 by the end of the year. The company will soon move to new premises in the Grenoble area to further develop its activity.
The Company will accelerate its development, optimize its existing technology, industrialize a large-scale product line by 2024 and present a first demonstrator between the end of the year and next spring. INOCEL's demonstrators will be used to validate the performance of its hydrogen propulsion system in real-life conditions in the various target segments.
An experienced, multidisciplinary Board presided by Mauro RICCI, Co-Founder and Investor: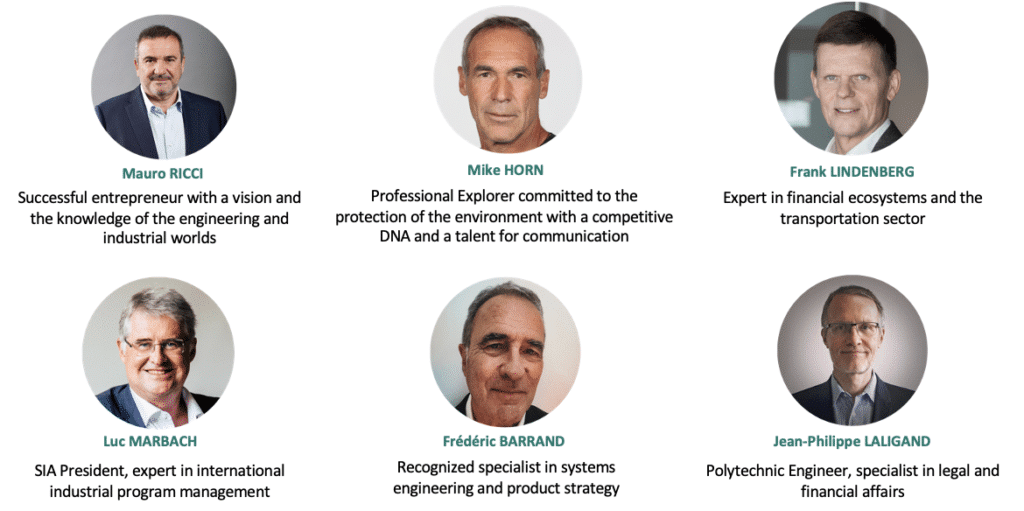 The General Direction is in charge of the structuring and the operational development of INOCEL in liaison with the Advisory Board on the strategic directions of the company.
INOCEL is financially, operationally, and strategically structured to achieve its ambitious goals and accelerate the energy transition. The entire INOCEL team is now ready and eager to bring to the market its high-performance hydrogen hydrogen propulsion system, in the interest of a decarbonized world.
The INOCEL team in detail:
Mauro RICCI, successful entrepreneur, notably Founder and CEO of the international group AKKA Technologies for 38 years, brings to the company his vision, his skills in business development and structuring as well as his extensive knowledge of the worlds of industry and engineering.
Mike HORN, a Professional Explorer for more than 25 years, brings his competitive DNA and shares his vision of the energy revolution for the environment. A compelling speaker with abundant energy, Mike HORN also carries the messages and mission of INOCEL.
Frank LINDENBERG, with 30 years of experience at Mercedes-Benz AG, most notably as Chief Financial Officer, shares his extensive knowledge of financial ecosystems, his skills in corporate structuring, and his expert view of the ground transportation industry and its evolution.
Luc MARBACH, President of the Société des Ingénieurs de l'Automobile (SIA) with 37 years of experience in industrialization, project lead and innovation as well as an in-depth knowledge of the industrial world and its issues, supports INOCEL in its product strategy and industrialization phase.
Frédéric BARRAND, who held management positions for more than 26 years within the PSA Peugeot Citroën, Giat Industries and Siemens Transportation Systems groups, has been running a strategy and management consulting firm for the past 10 years. An engineer by training, Frédéric BARRAND has extensive expertise in systems engineering and product development.
Jean-Philippe LALIGAND, experienced company director as well as financial and legal director who worked in the information technology and services sector, supports the company in its legal and financial aspects.
Jules BILLIET, a graduate of ESSEC Business School with an international background, which includes Cornell University, is recognized for his multicultural course and his experience in strategic development and finance. In particular, he has held the positions of Chief of Staff and Director of Operational Marketing for the AKKA Group, contributing significantly to the Group's strategy and its operational implementation, with major accomplishments.